Kuuntele merirannikkia / Lyssna på strandkrypa /Listen to sea milkwort
Rantakallio
Seilin saaristo vapautui jäästä vasta hieman yli 11000 vuotta sitten jään reunan päättyessä muinaiseen Yoldiamereen. Saariston toipuessa mannerjäätikön painolastista alkoi jatkuva, mutta alati hidastuva maankohoaminen, jonka seurauksena Seilin ensimmäiset luodot kohosivat nykyistä Itämerta edeltäneestä Litorinamerestä noin 5000 vuotta sitten. Itämeren muinaisten vaiheiden pohjalle kerrostuneet savet täyttivät kallioperän painanteita luoden otolliset olosuhteet asutuksen vakiintumiselle ja tulevalle viljelymaisemalle. Seilin hospitaalia rakennettaessa hieman yli 400 vuotta sitten rantaviiva oli jo vetäytynyt nykyisille Pappilan suuntaan ja Kirkkosaareen vievien teiden kohdalle Fyrin kallion kupeeseen ja hyvin lähelle Seilin hospitaalin aikaista kasvimaata. Kirkkosaaren erotti tuolloin pääsaaresta pieni salmi, joka oli jo alkanut vähitellen umpeutua aallokon kasatessa kapeaa sora- ja hiekkakannasta Kirkkosaaren suojaan.
Kirkkosaaren kupeessa pilkottaa merestä mannerjäätiköiden silottama ja uurteille hioma rantakallio, joka kohoaa vähitellen aallokon huuhtomana muistuttaen siitä, että voimme yhä tuntea jääkauden läsnäolon jopa yhden ihmissukupolven aikana. Uurteet viivoittavat lähes 2000 miljoonaa vuotta sitten sulasta kivimassasta jäähtyneitä vuoriston uumenia, jotka ovat kuluneet näkyviin käsittämättömän pitkä geologisen historian aikana mannerlaattojen seilatessa pitkin maapallon pintaa. Kohoava kallio murtuu rakoillen ja uurteiden hidas rapautuminen alkaa samalla kun koskemattomalle, mutta osin yhä meren muokkaamalle rannalle juurtuvat ensimmäiset kasvit. Uusien rantakallioiden nousun ja rannan kasvillisuuden sukkessiokehityksen myötä saaristo laajenee ja yhdistyy sisäosistaan mantereeseen – kunnes ehkä kymmenien tuhansien vuosien kuluttua uusi jääkausi alkaa tehdä tuloaan ja lopulta tämäkin luonnon tarina alkaa jälleen alusta.
Dosentti Joni Mäkinen, Maantieteen ja geologian laitos, Turun yliopisto

Merirannikki

Lysimachia maritima
Merirannikki kasvaa Seilin saaristossa alkuperäislajina, ja on yksi merenrantojemme yleisimmistä lajeista. Seilin ainoat lähes koskemattomat kasvillisuusalueet löytyvät avokallioilta ja maankohoamisen myötä paljastuvilta rantakaistaleilta. Rannikki on näiden rantojen pioneerilaji, joka leviää ensimmäisten joukossa merestä nousseille kareille ja paljaille rantaniityille. Koska näitä niittyjä on laidunnettu vuosisatoja, ne ovat laajentuneet sekä maalle että merelle päin. Kun niittylaitumen raja-aita säilyi samassa paikassa maankohoamisesta huolimatta, rantalepikko ei päässyt kehittymään karjan syödessä taimet. Näin rannikki pystyi muodostamaan rantaniityille laajoja kasvustoja. Rannikki leviää pääasiassa meressä ajelehtivien juuren kappaleiden avulla, aniharvoin siemenistä, koska niiden suolansietokyky on huono eikä ole sopeutunut täysin suolaiseen veteen. Siemenet eivät ole vielä ehtineet sopeutua näihin uusin olosuhteisiin. Rannikin pölyttäjinä toimivat muurahaiset.
Kuvataiteilija Kalle Hamm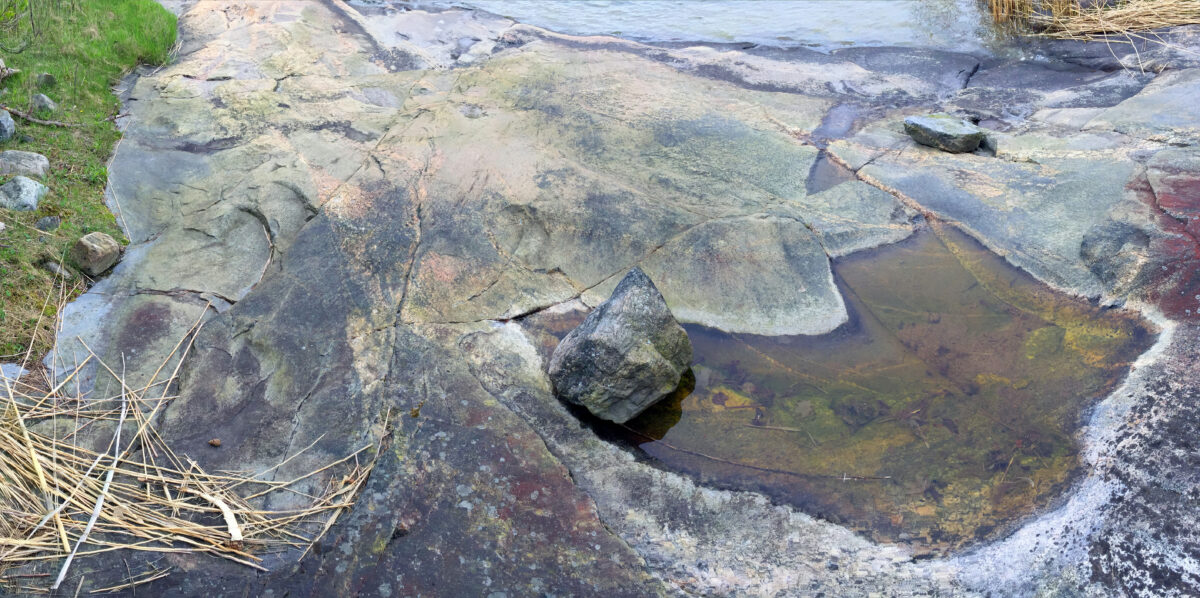 SVE
Strandhäll
Själö befriades från isen först för lite över 11000 år sedan när inlandsisen sträckte sig fram till Yoldiahavet. När skärgården befriats från isens tyngd påbörjades en kontinuerlig, om än nersaktande landhöjning, vilket ledde för ungefär 5000 år sedan till att Själös första skär reste sig över (Östersjöns föregångares) Littorinahavets yta. Leran som under Östersjöns forna faser sedimenterades i hällmarkens sänkor skapade goda förutsättningar för bebyggelse och den blivande odlade landskapet. När leprakolonin byggdes för lite över 400 år sedan hade stranden redan dragit sig tillbaka till stället där de nutida vägarna går till prästgården och kyrkan, bredvid hällarna vid Fyren, och mycket nära stället för hospitalets trädgård. Kyrkan stod då på en skild ö som skildes från huvudön av ett smalt sund, vilket redan börjat fyllas i av ett smalt näs bestående av grus och sand som vågorna sköljde upp i öns skydd.
Nära kyrkan sticker en små strandhäll upp frän vågorna, dess yta slipad och ristad med räfflor av inlandisen. Den höjer sig sakta från havet, som en påminnelse om att vi fortfarande kan känna istidens närvaro även under ett människolivs tid. Räfflorna är ristade på en bergskedjas kärna vars smälta stenmassa stelnade för nästan 2000 miljoner år sedan. Bergstopparna har slitits ner under den ofattbart långa geologiska historien medan kontinentalplattorna seglat fram och tillbaka längs jordens yta. Klipphällen spricker medan den höjs, och räfflorna börjar sakta nötas samtidigt som de första växterna erövrar den nya, men fortfarande delvis av vågorna sköljda marken. Alltmedan flera hällar höjs och strandens växtlighet går genom sina successionsfaser breder sig skärgården ut och växer ihop med fastlandet – tills efter kanske tiotusentals år så stundar en ny istid och även denna av naturen berättade historia börjar om från början.
Docent Joni Mäkinen, Geografi och Geologi, Åbo Universitet
Strandkrypa

Lysimachia maritima
Strandkrypan hör till Själös ursprungliga flora, och är en av de vanligaste arterna på våra havsstränder. Själös enda nästan opåverkade växtlighetsområden finns vid berghällarna och strandremsor som landhöjningen nyligen torrlagt. Strandkrypan är en pionjärväxt på såna stränder, och är bland de första att erövra skär som höjts över havsytan och nya strandängar. Eftersom strandängar använts som betesmark i århundraden, har de utvidgat sig både mot havet och landet. När stängslet som utgjort gränsen till en betad strandäng inte flyttats trots landhöjningen, har alen inte kunnat ta över eftersom betesdjuren ätit plantorna. Detta har tillåtit strandkrypan att bilda  stora bestånd. Strandkrypan sprider sig främst via flytande delar av stjälken, sällan via frön, eftersom de tål salt dåligt och har ännu inte helt hunnit anpassa sig till saltvatten. Strandkrypan pollineras av myror. 
Bildkonstnär Kalle Hamm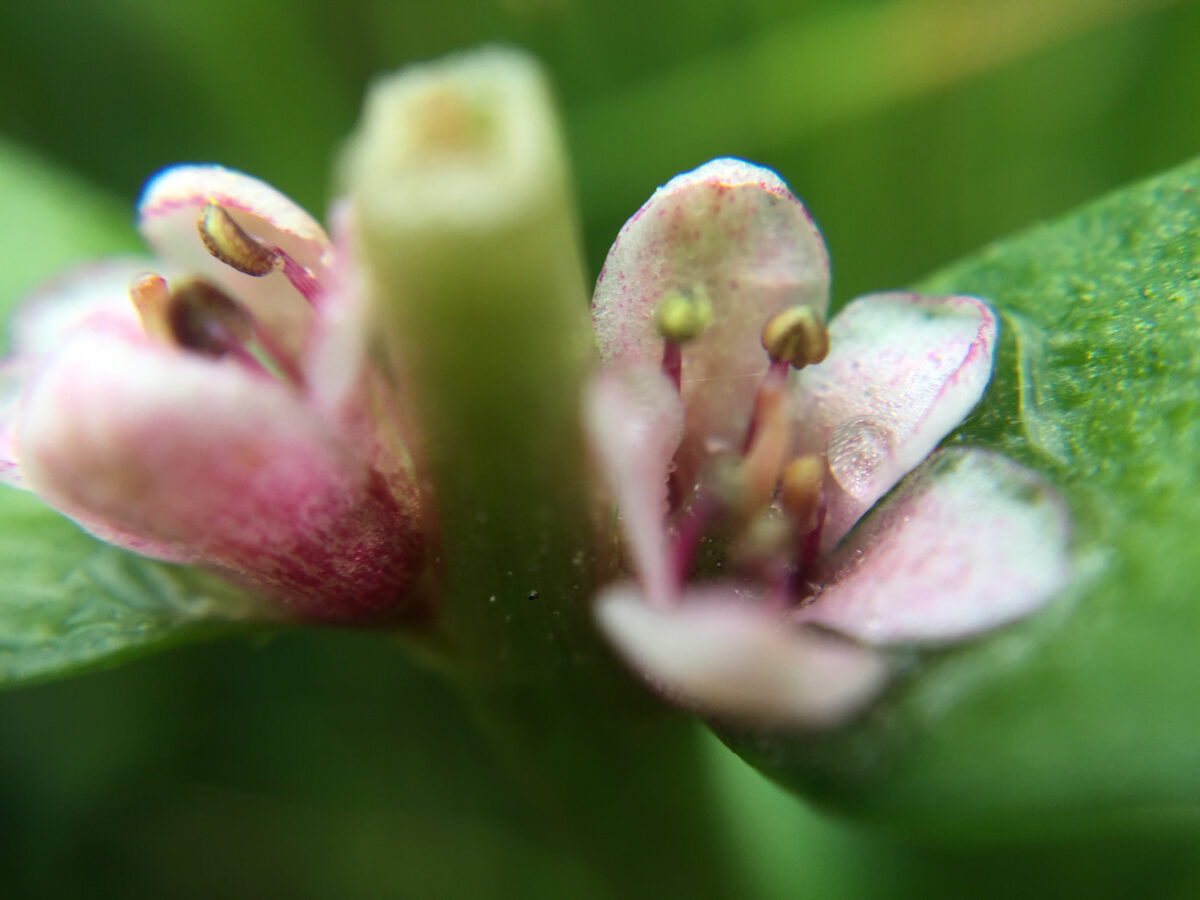 Rocky seashore
Seili archipelago emerged from under the ice a mere 11000 years ago, when the ice sheet terminated at the ancient Yoldia Sea. As the archipelago rebounded from the weight of the ice sheet, the land started rising, and still continues to rise albeit at an ever slower rate. The first parts of Seili, small islets at the time, rose from the Littorina Sea (the Baltic Sea's predecessor) about 5000 years ago. The clay sediments deposited into the rock depressions when they were still underwater created good conditions for human habitation and the later agricultural landscape. When the leper hospital was built 400 years ago the shoreline had already withdrawn to the location of the current roads towards the vicarage and Kirkkosaari, near the Fyr rocks, and very close to the site of the mental asylum garden. Kirkkosaari ("Church Island") was at the time separated from the main island by a narrow channel, which had already started to silt up as the waves piled up a narrow sand and gravel spit on the sheltered side of Kirkkosaari.
Next to Kirkkosaari there is a tiny rocky outcrop, worn smooth and grooved by the ice sheets,  poking out of the sea. This rock is gradually rising above the waves that wash over it, as a reminder that we can experience the presence of the Ice Age even during one human lifespan. The grooves scratched into the otherwise polished surface ornament the heart of a mountain range that solidifed from molten rock almost 2000 million years ago, the mountain tops ground down and the heart exposed over the incomprehensible span of geological time, as continental plates have sailed across the Earth's surface. The rising rock cracks and the slow wearing down of the grooves starts at the same time as plants colonise the virgin, but still partly marine-influenced land. As new land rises and the vegetation goes through several stages of succession the archipelago expands and eventually joins with the mainland – until after perhaps tens of thousands of years a new Ice Age approaches and this great story of nature starts anew. 
Adjunct professor Joni Mäkinen, Department of Geography and Geology, Turku University
Sea milkwort

Lysimachia maritima
Sea milkwort is native to Seili, and is one of the most common plants on our seashore. The only undisturbed (or little disturbed) vegetation on Seili is on exposed rock and the virgin strips of land which are exposed as the land rises. Sea milkwort is a pioneer species on such beaches, among the first to colonise shallows which have risen above the water level and new seashore meadows. Since such meadows have been grazed for centuries, they have expanded both inshore and towards the sea. The fence marking the boundary of seashore meadows would often not be moved despite the land rising, which prevented alder from taking over as cattle ate the young saplings. This allowed sea milkwort to form large patches of growth in meadows. Sea milkwort mainly spreads via stem fragments drifting in the sea; less commonly via seeds, due to the seeds tolerating salt poorly. The plant is not entirely adapted to salt water, not having had time to adapt to these new conditions. Sea milkwort is pollinated by ants.
Visual artist Kalle Hamm